The Shuntec four-column hydraulic press has an independent power mechanism and electrical system and adopts button centralized control, which can realize three operation modes of adjustment, manual and semi-automatic.
The following introduces the performance and characteristics of the Shuntec four-column hydraulic press: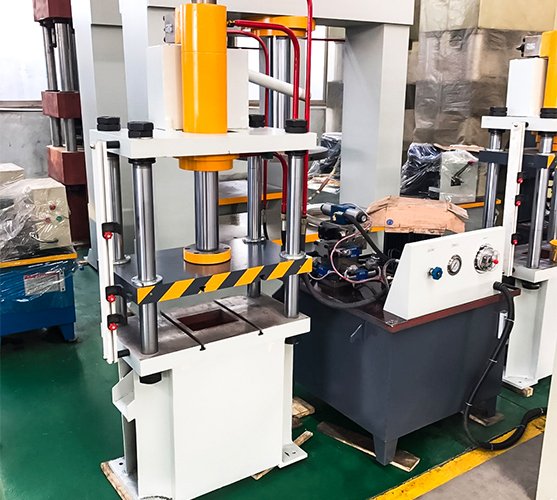 1. The four-column hydraulic press adopts a three-beam four-column structure, and the beam plate adopts an integral solid steel plate, which avoids the welding deformation and stress deformation of the welded structure, ensures its working accuracy, and the overall structure is compact and space-saving.
2. The four-column hydraulic press realizes the integration of cylinder beam casting, effectively preventing the above defects, with high strength and strong load resistance.
3. The main cylinder of the four-column hydraulic press adopts a piston-type sub-cylinder structure. The sub-cylinder is embedded in the main cylinder. The cross-sectional area of the sub-cylinder is small, which can drive the main cylinder to go down quickly with a small amount of oil.
4. When the smaller parts are formed, the no-load stroke of the beam and the cylinder block can be reduced, the idle stroke time can be reduced, and the length of the guide column and the oil pipeline can be shortened at the same time.