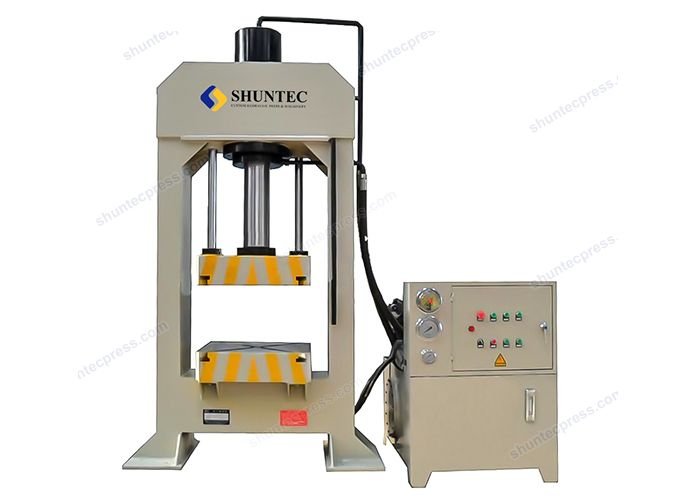 1. Overview of Two-Post Hydraulic Press
Among various types of hydraulic presses that are categorized by structure, 2-post hydraulic presses seem to attract less attention due to their small size and simple structure. But it is also due to its simple yet compact structure that it has proven advantages over other types of hydraulic presses, and has been the preferred choice of many manufacturers who aim to increase their productivity at a lower cost.  
The two-post hydraulic press can be used by large, medium, and small-scale enterprises, factories, mining industries, and automobile repair shops for disassembly and assembly operations, straightening correction, bending of flanges, belt pulleys, shaft bushings, bearing, etc. When equipped with a mold, it can carry out routine work such as punching, blanking, stretching, folding and pressure forming in replacement of the old-fashioned screw hand press. When equipped with a pressure gauge, it can be used for jack testing.
2. Advantages
Compared with other types of hydraulic presses, such as the C-frame hydraulic press, and four-post hydraulic press, the 2-post hydraulic press has its own unique features and advantages. Now let's have a look at the advantages they have: 
1). Optimized structure design. The three-beam two-post simple structure requires less material and construction procedures, and this kind of press also takes up less space in the workshop. Therefore, compared with other types of hydraulic presses which have more complex and larger structures, the two-post hydraulic press not only looks simple and neat but is also more practical and economical, which has made it the ideal choice for many manufacturers with an economical mindset.
2). The two posts are chrome-plated to achieve high rigidity and minimize deflection of the entire machine construction, as well as perfect precise bed-to-ram parallelism.
3). The hydraulic control adopts a cartridge valve integrated system, which is featured reliable action, long service life, and small hydraulic shock. What's more, the integrated system requires less amount connecting pipelines and thus eventually reduces leakage points. 
4). The two-post press is equipped with an independent electrical control system which has very reliable performance. Through this system, operators can visually operate the machine with every result shown clearly; and maintenance is very convenient.
5). It adopts button centralized control, which can realize two operation modes including adjustment and two-handed single-cycle operation.
6). Operators can choose to realize two forming processes of fixed stroke and fixed pressure through the operation panel. Pressure-holding and time-delay function is available. Working pressure and stroke can be adjusted within the specified range according to the process requirements.
3. Application
This series of 2-post hydraulic presses are suitable for stretching, bending, flanging, cold extrusion, blanking, and other processes of metal materials. It is also suitable for correction, press-fitting, press forming of powder products, and abrasive products.