With the rapid development of the automobile industry, especially the continuous expansion of the scale of light truck production, the main structure of its chassis - longitudinal beam primary forming equipment demand is also expanding. The traditional production process is the use of dozens of drilling press drilling and then forming, and now most manufacturers have used beam CNC punch punching processing, and efficiency has been greatly improved.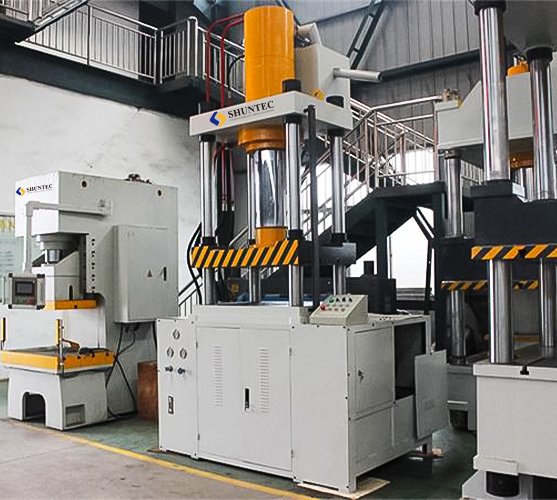 The Shuntec hydraulic press system is mainly composed of Siemens S7-300 PLC, Siemens TP1200 touch screen, Germany NOVO displacement sensor, Rexroth proportional flow valve, Jining Taifeng hydraulic system, high proportion pump, and so on.
Set relevant parameters in the touch screen, according to the feedback signal of the displacement sensor, S7-300 PLC after operation and processing control hydraulic components and proportional pump action, achieve process control requirements.
In addition, a proportional flow valve is arranged on the pipeline of the lower chamber of the oil cylinder. When the slider moves from fast to slow, the control signal of the proportional flow valve is changed to realize the adjustment of the valve port, so as to realize the smooth transition of the speed of the slider from fast to slow without impact.