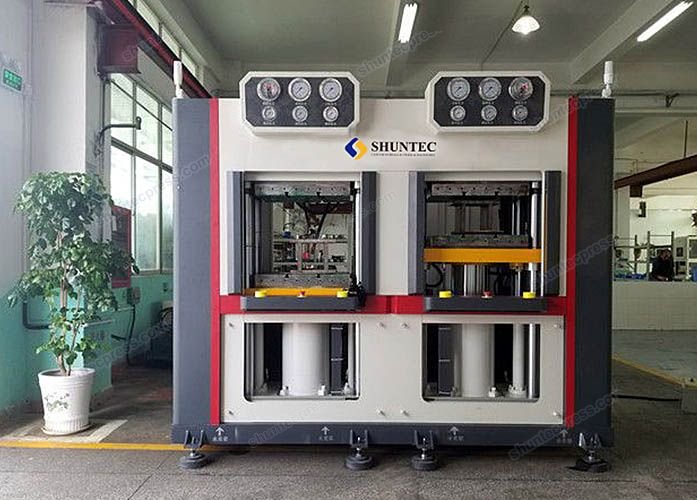 Double-sided high-pressure bulge forming machine is custom designed to achieve the perfect combination of hydraulic pressure and pneumatic pressure. 
Features of Double-Sided High Pressure Bulge Forming Machine
1. The appearance of the equipment is unique and beautiful. The main body adopts a four-column three-plate cylinder under-mounted structure. The pneumatic system, electric control system, and hydraulic system are scientifically arranged in different sections; The four posts are made of high-quality 45# forging materials, and the surface is hard chrome-plated and polished after intermediate-frequency quenching, and the hardness reaches HRC45-50 degrees, which can improve the wear resistance of the columns during the movement of the slider, while ensuring the guiding accuracy (parallelism and perpendicularity), and the ability to withstand strong eccentric loads.
2. The double-sided high-pressure bulge forming machine adopts servo-hydraulic system technology and the German-imported quantitative pump to accurately set the pressure, which has no overflow compared with the conventional hydraulic system, and saves power and energy by more than 50%;
3. Two-stage speed control of the movable plate, which can realize fast approaching speed, slow-closing speed, and fast return speed;
4. Mold customization and one-stop technical service support;
5. The equipment has passed the market test in batches. The advantages of the products: the corners of the composite material don't turn whitish, and the layer is not separated.
6. The double-sided high-pressure bulge forming machine uses configuration software to compile. It has a friendly HMI enabled by a high-color touch screen, which greatly facilitates the user's visual input and use of production parameters and direct monitoring of on-site production process data including equipment status. The main cylinder pressure, heating time, template temperature, vacuum suction time, air pressurization pressure, pressure holding time, etc. can be directly input through the touch screen, and each running value is dynamically displayed, with a friendly and visual interface, simple and convenient operation;
7. The touch screen has an Ethernet interface, USB interface, data storage, and input/output functions;
8. The press-fitting data can automatically generate production reports, and the data can be exported for easy query;
9. Equipment I/O input and output signal monitoring function with signal input displayed in red and no signal input displayed in green, which is convenient for troubleshooting the equipment;
10. The machine has a fault alarm function. When a fault occurs, the corresponding cause identification turns yellow, and the corresponding troubleshooting can be done quickly according to the fault information;
11. The operating table is equipped with photoelectric protection, which is safe and reliable
12. This equipment adopts a single-station design, which makes it more convenient to place in the workshop.