The 4-post hydraulic press is a kind of mechanical equipment that uses the static pressure of hydraulic oil delivered by an oil pump to process metal, plastic, rubber, wood, powder, and other products. Its principle is to use Pascal's law to make use of liquid pressure transmission machinery, there are many types.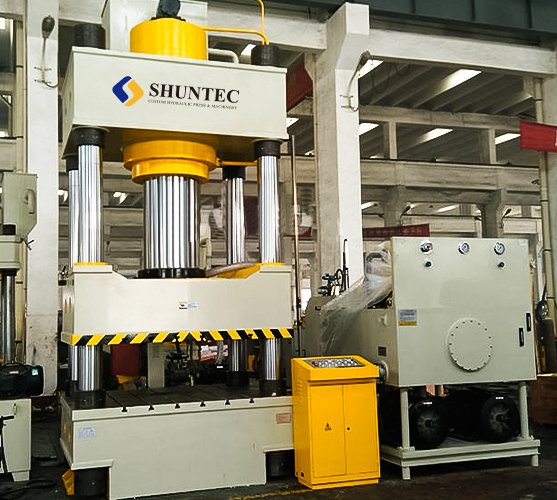 The 4-post hydraulic press is composed of the main engine, electric control mechanism, and hydraulic system. The main engine part includes the fuselage, the main cylinder, the ejector cylinder, and the liquid filling device; the power mechanism is composed of a fuel tank, a high-pressure pump, a low-pressure control system, an electric motor, and various pressure valves and directional valves; the electrical device operates in accordance with the provisions of the hydraulic system Program, select the specified working mode, and complete the specified process action cycle under the instruction of the signal; under the control of the electrical device, the power mechanism realizes the conversion, adjustment, and transmission of energy through pumps, oil cylinders, and various hydraulic valves.
The working pressure, pressing speed, no-load fast descending speed, and decelerating ascending speed of the 4-post hydraulic press can be adjusted according to the needs of the process. The press can complete three process modes: ejection process, without ejection process, and stretching process. It is commonly used in the pressing process and press forming processes, such as forging, stamping, cold extrusion, straightening, bending, flanging, sheet drawing, powder metallurgy, press fitting, etc.